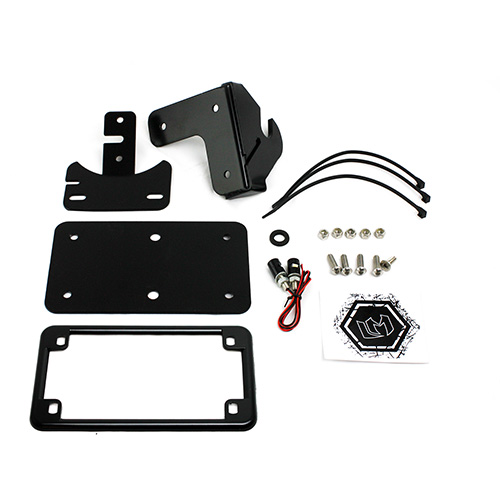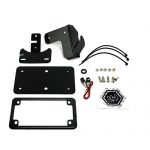 Side Mount License Plate for the Star Bolt
Price: $150
Orderable while Out of Stock
Description
Additional information
Reviews (3)
Product Notices
Description
The Low and Mean side mount license plate kit is a great way to customize your Yamaha Star Bolt. This kit offers the options for a vertical or horizontal license plate option. You also can choose if you want the use the mount for the stock tail light or not. This product is simple to install without having to remove your axle. It's made from 12 gauge steel and aluminum that has a very nice powder coat finish. The kit comes with a black license plate frame, zip ties, two LED lights, a LM Sticker, and hardware. The stock wire harness can be rerouted to reach the side mount. The license plate light wire will reach to the side mount, but you will have to cut the stock plug to wire in the light or wire it in to your preference. The kit includes a "LM Bolt" sticker to cover the hole in the rear fender left from the stock brake light. Simple stuff, for more info please watch our install video.
What you need to know:
R-spec shock reservoir will hit the stock LED brake light mounted to the side mount plate holder in the vertical position. However, in the horizontal position we suggest the stock LED brake light mount to the outside edge, which will clear this R-spec shock reservoir. See image above.
Check your state laws about positioning your plate vertical or horizontal.
Canadian an foreign license plates larger than 7 inches by 4 inches will need to be cut down and re-drilled to fit properly.
The stock brake/run wire harness will reach to the side to plug in the stock brake light.
The license plate lights are not a plug and play, you will need to decide how you would like to wire this in. We have some suggestions in our install video.
The "LM Bolt" sticker is a simple way to cover the hole in the rear fender if you relocate the brake light. Clean the fender well before you install.
Want to learn more, check out the feedback from the forum http://www.yamahastarbolt.com/low-and-mean/new-universal-side-mount-license-plate-for-the-yamaha-bolt/
This product fits: Yamaha Star Bolt
Installation time: 30 minutes

Do I need a new wire harness when I move the running/ brake light to the side mount?
No, your stock wiring harness will work – watch our install video to see how to re-route your wiring.

Does the product come ready to bolt on?
Yes this part is ready to bolt on. No modification to your motorcycle is required.

Do I have to remove my axle?


No, you only loosen the axle to make room for the mount and then re-tighten the axle to factory specs.

Do I need a professional mechanic to install this product?
This is always suggested, but this depends on your own garage skills, please know your limits and watch our install video above.
Additional information
| | |
| --- | --- |
| Weight | 2 lbs |
| Dimensions | 8 x 5 x 4 in |
Our standard order fulfillment is 4-7 business days.
Painted products are a minimum 3 weeks wait to fulfill.
Triple trees may take 12 weeks to fulfill.
Covered/Finished seat may take 4 weeks to fulfill.
LED products may take 2 weeks to fulfill.