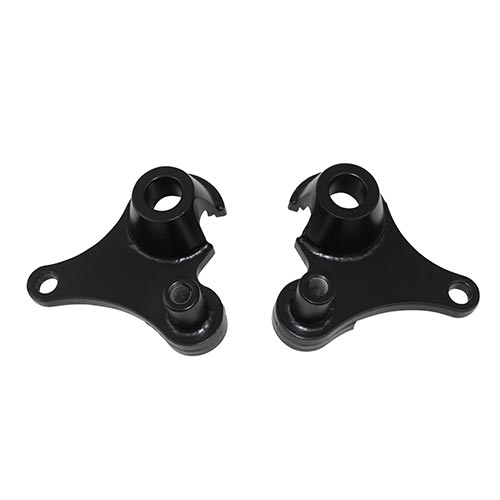 Rear Lowering Brackets for the Star Bolt R-Spec Shocks
Yamaha Star Bolt (XV950) rear shock absorber lowering kit designed for the gold reservoir shocks giving your cruiser a lower stance and meaner look.
Email when stock is available
Description
Additional information
Reviews (1)
Product Notices
Description
The LM Lowering Brackets lower your Yamaha Star Bolt 1.40″, at the lightest spring setting. These strong steel brackets are design to be used with the R-Spec Yamaha Star Bolt shocks (NOT stock, Stock shocks will take a LM-04B-500). This allows you to clean up the back of the rear fender or use our Shorty Rear fender PN# LM-04B-211. These lowering brackets are made from Steel and they do come with a satin black powdercoat, not paint. We include a Torques key, hardware, Loctite and instructions.
What you need to know:
This product does bolt right on, but can only be use with the R-Spec shocks (NOT stock).
The 1.40″ drop is based off the lightest spring setting.
Does fit with the Stock Rear fender.
Fits with any LM Bolt Rear fenders.
This bracket can not be used with the Lowering bracket for the stock shocks (LM-04B-500)!
By lowering your motorcycle, this will cause the pegs to scrape the ground more. See our forward control brackets to help improve peg clearance.
Passenger foot pegs will not fit with the Lowered brackets.
The kit comes with a torques key to remove the top bolt from the stock shocks.
ATTENTION: Any other aftermarket parts not listed or combinations of parts have not been tested! Fitment is up to you for anything not listed.
This product fits: Yamaha Star Bolt with R-Spec shocks
Installation time: 1 hr


Can I run a fatter tire with the Lowering brackets?
Yes, these brackets have been designed to fit with the fatter tire set up.

Will Yamaha lowering shocks work?
The Yamaha Bolt OEM lowering shocks will work with the brackets for an even lower ride. At the middle spring setting, they contact the fender strut just barely.
Can I not run a fender at all?
You can use any LM Bolt Rear fender and these Lowering brackets, with our side mount license plate to change the look and keep all the function. The stock rear fender will work.

Are these brackets easy to install?
Yes, you will need to have a motorcycle jack to take weight off of the rear shocks.

Does this kit come with everything I will need?


Yes, we even send Loctite and a torques key to remove the bolt from the top of the shock mount. You are going to need some basic tools that we do not supply. Installation from a professional mechanic is always suggested, but this depends on your own garage skills, please know your limits and watch our install video above.
Additional information
| | |
| --- | --- |
| Weight | 2 lbs |
| Dimensions | 4 × 4 × 3 in |
With our fiberglass products, we require you, or your mechanic, pre-fit the product to your motorcycle before painting or finishing. We have fixtures for accurate fit but sometimes parts may not fit. If you submit a claim that will require a replacement or refund, we only provide the value of the product(s) at the time of shipping.