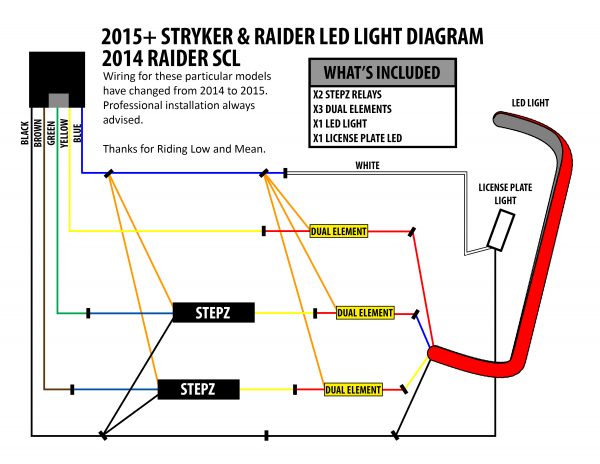 Stryker LED Brake Light kit
Price: $265
Description
Additional information
Reviews (1)
Product Notices
Description
Stryker models 2015 and Newer need this part (6126-27) Stepz Relays to fix the 'Hyperflash' issues!!
Clean up the rear fender of your Star Stryker with this LED brake and turn kit. This product is intended to replace the cluster on the back of the Star Stryker rear fender. The LED follows the rear design of the Star Stryker rear fender which gives your ride a clean custom look. The brightness of the red LED is more than enough at night and it works very good during the day. The kit comes with a red LED brake light with built in turn signals, you have the choice of three different outer tubes colors to hold the red LED. This kit does not come with the hardware and lights to hold your license plate, however if you choose to do so later then the supplied support bracket will allow you to do so.
What you need to know:
The complete rear plastic section on your stock rear fender will be replaced.
You will have to wire this kit into the stock wire harness. Please see wire diagram above.
Do to the shape of the rear fender the turn signals are not as visible as stock. We suggest adding the extra turn signal LED's for the best results.
LED only come's in red, but you can change the color of the outer tube. There is the function to run this in dual mode, as running lights and brake / turning. The turn signals will flash fast with out a equalizer module.
The extra LED option comes as two 3.4″ LED stripes that can attach to either side of your license plate holder or maybe another place on the back of the motorcycle. These lights can be used for running, turning, or brake. They are red LED lights with your choice of color tubing.
This product fits: Star Stryker 2011 and newer

Can I install this part, or should I have a professional handle it?
Yes, you can install this if you have some basic garage skills. This does require wiring to your stock wire harness. We take the plug off the stock harness and attach it to our new LED brake light.

How bright is the LED?
Excellent at night (which is most important and very good during the day. Please understand this is a custom item and if visibility is your main concern then we suggest adding more lights to improve this function.

Can you see the turn signals from the rear?
Not very good, we suggest adding the extra LED's to other parts of your ride to improve this function.

Will my turn signals still function as normal?


With this kit the turn signal will blink faster than normal, but this will not hurt anything. You can get a equalizer to slow them down like the stock lights.
Additional information
| | |
| --- | --- |
| Weight | 1 lbs |
| Dimensions | 12 × 6 × 6 in |
| LED color | RED (RED LEDs), CLEAR (RED LEDs), SMOKED (RED LEDs), SMOKED (AMBER Turn, RED Brake/Run LEDs) |
Our standard order fulfillment is 4-7 business days.
Painted products are a minimum 3 weeks wait to fulfill.
Triple trees may take 12 weeks to fulfill.
Covered/Finished seat may take 4 weeks to fulfill.
LED products may take 2 weeks to fulfill.