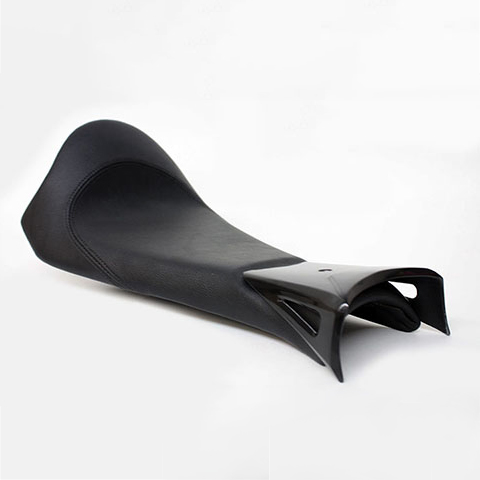 Star Bolt Low Rider Seat
Email when stock is available
Description
Additional information
Reviews (2)
Product Notices
Description
The Low and Mean Low Rider Seat was designed so the lines of the tank would flow through the seat and into the rear fender. We also designed the seat pan 1.25″ lower than the stock seat pan, so you can have the same amount of foam but sit lower in the bike. Our pan is also narrower to help you put both feet on the ground with more confidence than the stock seat. This Low Rider Seat also comes with a front cap which gives the illusion of a tank extension. The cap comes with a semi gloss finish and can be painted to match the gas tank. This Low Seat Pan is made from hand laid fiberglass composite, the foam is soft to the touch with a firm support and the cover is made from high-end black vinyl with french stitching. There's no hardware that comes with this seat, just a dual lock Velcro to fasten it to the rear fender. We featured this seat on our 2013 Copper Bolt build.
What You Need to Know:
This solo seat is a direct replacement for the stock seat.
Passenger seats will work with our Low Rider seat. The passenger seat does not attach to driver seat.
LM Seat shows more of the gas tank and could possibly show rubbing from the factory seat.
LM Seat hooks under gas tank (for 2014-2016) and then Velcros down to the rear fender.
The seat stitching is water resistant, but not waterproof. If you wash your motorcycle, we recommend to take off your seat.
This product fits: 2014-2016 Star Bolt, 2017+ with different mounting
Install time: 1/4 hr.


What do I do about a passenger seat?
You could try to bolt-on your stock passenger seat, but this will not just bolt to our LM custom seat. If you wanted something different and simple. We suggest going to a suction cup passenger seat, they are very affordable on Ebay.

Does the Velcro hold the seat down?
Yes, the Velcro is very strong, almost too strong, you have to really pull on it to remove.

Do I have to remove anything to install this seat pan?
The seat will sit right down on the frame, you should not have any issues with the stock set up. If you changed the bike at all we can not guarantee the seat will fit as designed.

Will this seat work with changing the rear fender?


The Low Seat Pan will work with our rear fender and the stock rear fender, but we can not say for sure if it will work for all others.

Do I need a professional mechanic to install this product?
This is always suggested, but this depends on your own garage skills, please know your limits and watch our install video above. Give us a call if you have any questions.
Additional information
| | |
| --- | --- |
| Weight | 4 lbs |
| Dimensions | 17 × 11 × 7 in |
| Year of Bolt | 2014 – 2016, 2017+ |
With our fiberglass products, we require you, or your mechanic, pre-fit the product to your motorcycle before painting or finishing. We have fixtures for accurate fit but sometimes parts may not fit. If you submit a claim that will require a replacement or refund, we only provide the value of the product(s) at the time of shipping.